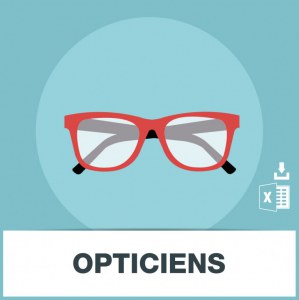 Opticians email database
adresse e-mail opticien
16.288 email addresses of opticians
The 16.288 email addresses of opticians are provided on an Excel file with the columns NAME - ADDRESS - ZIP CODE - CITY - PHONE - E-MAIL ADDRESS
Our databases are only in FRANCE.
We add the fields LEGAL FORM / NAME OF MANAGER / DATE OF CREATION / SIRET / SIREN / NAF APE CODE / REVENUE / RESULT / NUMBER OF WORKFORCE EMPLOYEES that we have in our possession.
Database last update : November 21 2023
We send the database in an excel file by email a few minutes after your order, from Monday to Friday. There can be one or more email addresses for the same company. On our site Base-Emails.com, the email files are prepared for on order because we check and check the validity of the email addresses every day, this guarantees you the best success rate for your emailing campaigns.
Opening and processing times for your order: Monday to Friday 9 a.m. to 12 p.m. / 2 p.m. to 6 p.m.

We do not send sample bases.
We can offer you the purchase of a selection of the file for a department or region. The best thing is to go to the Contact section and send us your request. We will reply to you by e-mail with the corresponding count and estimated cost.

Does the GDPR impact prospecting rules?
No: The GDPR does not change the rules applicable to prospecting emails, whether they are B2B or B2C.

Since the message is related to the profession of the recipient, you do not need an OPT-IN (or prior consent).
The GDPR therefore has nothing to do with it and nothing changes as it stands.
On the other hand:
- you must provide a valid OPT-OUT on the BtoB email.
- you must of course comply with all the rules of the GDPR, including: right to information, unsubscription, data security...

Gain efficiency with our targeted and qualified e-mail prospecting file database. The indicated quantity of e-mail addresses database takes into account the number of unique e-mail addresses without duplicates throughout France. Once your purchase of e-mail address database made, vyou can send your e-mailing on the platform of your choice or via www.envoi-emails.com. We are a supplier of professional database of e-mail addresses but also of telephone numbers databases, SMS databases, and FAX bases. See also the Frequently Asked Questions about our e-mail files.
If you have any further questions or special requests about e-mail databases, please contact us.
Associated or complementary products